A year into war, fate of Tigrayan federal forces still a mystery | Conflict News
Simon*, a 24-year-old ethnic Tigrayan resident of Ethiopias capital, Addis Ababa, feels particularly uneasy on the first anniversary of the brutal war that has ravaged the northern Tigray region since last November. His father, a mid-ranking Ethiopian army officer with a three-decade career, has been held in custody without charge since his arrest in Addis Ababa two weeks after fighting erupted.
The conflict that broke out in November 2020 pitted the Ethiopian army and its allies fighters from the Amhara region and Eritrean troops against forces loyal to Tigray Peoples Liberation Front (TPLF), the regions then-governing party. Unarmed civilians have suffered the brunt of the war, including massacres and rape, with hundreds of thousands of people facing famine-like conditions.
Ethnic Tigrayans have also been arbitrarily rounded up and detained in police stations, detention centres and military camps across the country. The mass campaign has also seen ethnic Tigrayans dismissed from their jobs in the civil or security sector, with authorities also shutting down a number of Tigrayan-owned businesses. The government has denied accusations of ethnic profiling but has described its operation as necessary to eliminate the TPLF, which has been designated a terrorist group.
But while the plight of those detained Tigrayan civilians outside the region has received media attention, the crackdown on those within Ethiopias security forces such as Simons father, who held a non-combatant role has seldom been mentioned.
On the day of his arrest, they searched the house for weapons, which they didnt find, before taking him to a secret location, Simon said.
Simon and his mother had to scour detention facilities for several days to discover his fathers whereabouts, before a tip-off from a family friend led them to a detention facility in the centre of Addis Ababa.
Initially, my father was presented with a seven-page long criminal charge including sending supplies to TPLF, participation in ethnic killings in western Tigray, treason, association with the Oromo Liberation Army (OLA) rebel group and planning terror attacks, said Simon. But they were rejected by a court and he was given bail in December 2020.
But after the bail money was paid and his family tried to pick him up from prison, Simon said security forces took his father through a side door and moved him to a detention facility outside the capital. There, he was put in an overcrowded and dirty prison cell and became seriously sick.
Since then, the ailing detainee has been held without charges.
We believe my father was targeted and put into months of arbitrary detention, not because they found something incriminating on him, but because he was a Tigrayan, Simon said.
The war in Tigray has killed thousands of people and forced more than 2.5 million from their homes. In recent months, it has expanded to neighbouring Amhara and Afar regions. On Tuesday, the Ethiopian government declared a nationwide state of emergency after the Tigrayan fighters said in recent days they had made territorial gains deep in Amhara region and threatened to march towards Addis Ababa.
Under the emergency, anyone suspected of having links with terrorist groups could be detained without a court warrant deepening the worries of ethnic Tigrayans.
Even though Im not formally under arrest, I feel mentally Im in prison, as in my home area which has many military families, my every movement is being monitored, said Simon.
For 20-year-old Hagos, the first-year anniversary of the war comes with a sense of foreboding as he is yet to see his father, another ethnic Tigrayan army officer who was detained a few days after the outbreak of hostilities.
For three months, I had no idea whether my father was alive or dead, Hagos said. But my family eventually heard his voice through smuggled phones provided by sympathetic prison guards.
Since then, Hagos has hardly had any news from his father who is being held without charges in a military camp a fate he claims has also befallen at least 20 ethnic Tigrayan families with military members living in his area in Addis Ababa.
Hagoss anxiety about his fathers safety was exacerbated recently after local media reported that a military court had handed out a variety of sentences, including death penalties, to soldiers deemed guilty of treason.
The detained military officers were the breadwinners of their families, but their salaries have been suspended and their bank accounts restricted, thrusting their loved ones into precarious economic situations. My family lives off some financial support from relatives, household food items my mother makes and sells, as well as irregular jobs my older brother is currently engaged in, Hagos said.
There are no figures of the number of military officers detained. An Associated Press news agency report in April said that more than 17,000 ethnic Tigrayans were in the military when the war broke out and have been detained, according to an estimate given to a researcher by Mulugeta Gebrehiwot Berhe, a ex-Ethiopian official and Tigrayan who launched the Institute for Peace and Security Studies at Addis Ababa University.
For Mebrahtom*, an ethnic Tigrayan lawyer who has previously handled cases of detained Tigrayan civilians, the fate of ethnic Tigrayans in the federal security forces who have been detained is an issue that he considers too risky to handle himself.
At the start, however, Mebrahtom said it was not for lack of trying.
I believe there are tens of thousands of Tigrayans who were working in the army, federal police commission, Addis Ababa city police commission, Intelligence Services and other security services sector are under arrest, but we have no concrete figures, as the government largely doesnt acknowledge their detention, let alone bringing them to court, he said.
Mebrahtom said he and his colleagues tried to inform staff at the state-appointed Ethiopia Human Rights Commission (EHRC) but saw no desire to intervene. He added that they also opted to not engage directly with the security authorities out of fear for their safety.
Al Jazeera contacted the EHRC and the Ethiopian government for comment but did not receive a reply by the time of publication. Previous statements by the EHRC on reports about the detention of ethnic Tigrayans have stressed that it is imperative to ensure due process for all persons currently in detention.
There is no access to information of their whereabouts, how many are detained and in which places they are detained, how many have been sentenced to death, was there enough evidence presented against the convicts, Mebrahtom said. This has been the fate from the foot soldier up to lieutenant generals.
Meanwhile, with no confirmed reports of prison exchanges so far between the warring sides, Simon said he was pessimistic about his father being released any time soon.
[Prison exchanges] wouldve happened by now if there were any negotiations. I think the war will only end and my fathers fate will finally be decided when there is a clear victor, he said.
For now, I only see salvation in my fathers and others plight not in domestic institutions, which I believe are against my father and his ilk, but only in pressure from international institutions or regime, added Simon.
*Name changed for safety reasons
Oil crashes as coronavirus strain threatens demand recovery | Oil and Gas News
The emergence of the new strain represents the biggest threat to the recovery in global oil consumption.
Oil prices crashed more than 10% as a new coronavirus strain sparked fears that renewed lockdowns will threaten a global recovery in demand.
West Texas Intermediate crude tumbled below the $70-a-barrel level on Friday for the first time since late September, while the global benchmark price, Brent, slumped to less than $75.
The downward spiral in prices comes three days after a U.S.-led effort by top consuming nations to release stockpiled crude in an attempt to tame surging energy inflation. Next weeks OPEC+ meeting will now take on an even greater significance, as the producer group led by Saudi Arabia and Russia must decide whether to continue ratcheting up supply or pause the increases in response to the latest market volatility. OPEC+ is leaning towardabandoninga plan for a modest production hike scheduled for January when it meets on Dec. 1 to 2, according to delegates.
The identification of the new Covid variant has already prompted the U.S., the European Union and the U.K. to restrict air travel and triggered a selloff across financial markets, even as researchers have yet to determine whether its more transmissible or lethal than previous strains.
The development apparently wrong-footed many in the oil market who had been comforted by low inventory levels and demand that had rebounded to 2019 levels, said Rebecca Babin, senior energy trader at CIBC Private Wealth Management.
It was a lack of downside that had us continuing to think nothing bad could happen, she said. No one was thinking we could get a variant that were not familiar with and it could have meaningful impact.
The price plunge marks a dramatic change in market sentiment. Crude hit multiyear highs in recent months amid an energy crisis in Europe and China that had also sparked rallies in prices for coal and natural gas. Some traders and analysts predicted oil could reach $100 a barrel or more.
High gasoline retail prices prompted U.S. President Joe Biden to seek ways to ease the pressure on consumers, leading to Tuesdaysannouncementthat the U.S. will release 50 million barrels of crude from the Strategic Petroleum Reserve, with China, Japan, India, South Korea and the U.K. also set to tap inventories. Still, oil rose on the day that the move was confirmed, suggesting traders had already priced in the new supply, or that they were underwhelmed by the supply response.
OPEC+ had warned previously it would reconsider a potential output increase if other nations went ahead with a reserve release. UBS Group AG said Friday that OPEC+ could choose to pause its current planned output hike of 400,000 barrels a day, or even cut production.
Prices
West Texas Intermediate for January fell $10.24, or 13.1%, from Wednesdays close to settle at $68.15 a barrel in New York. The decline was the largest since April 2020.
There was no settlement Thursday due to the Thanksgiving holiday and all transactions will be booked Friday
Brent for January settlement tumbled $9.50 to settle at $72.72 a barrel on the ICE Futures Europe exchange
Fridays oil selloff was likely exacerbated by a lack of trading activity during the U.S. holiday period, coming a day after Thanksgiving, and as the New York market closed early.
Its a sign the market got carried away from itself and that we still remain very vulnerable to Covid-19, said John Kilduff, founding partner at Again Capital LLC.
Aside from the headline prices, crude traders also watched several other notable shifts in the market. WTI crude futures closed below its 200-day and 100-day moving averages, signs of technical weakness. The extreme pressure on the U.S. benchmark meant its discount to Brent expanded, reaching the widest since May 2020.
The picture wasnt much brighter in oil-product markets, the part of the oil complex most directly affected by end-user demand.Dieselplunged, particularly in Asia, as the market began to price in a potential renewed hit to economic growth.
This is a huge overreaction in terms of the market, Amrita Sen, chief oil analyst at consultant Energy Aspects Ltd. said in a Bloomberg Television interview. This is the market pricing in the worst possible scenarios.
Other key news:
Chinas ambiguity on whether it will join the U.S.-led coordinated release of oil reserves is aimed at a domestic audience to show Beijing isnt following Washington, according to government officials involved in the discussions.
Even fully vaccinated, you're anti-vax if you oppose mandates, Australian minister declares RT World News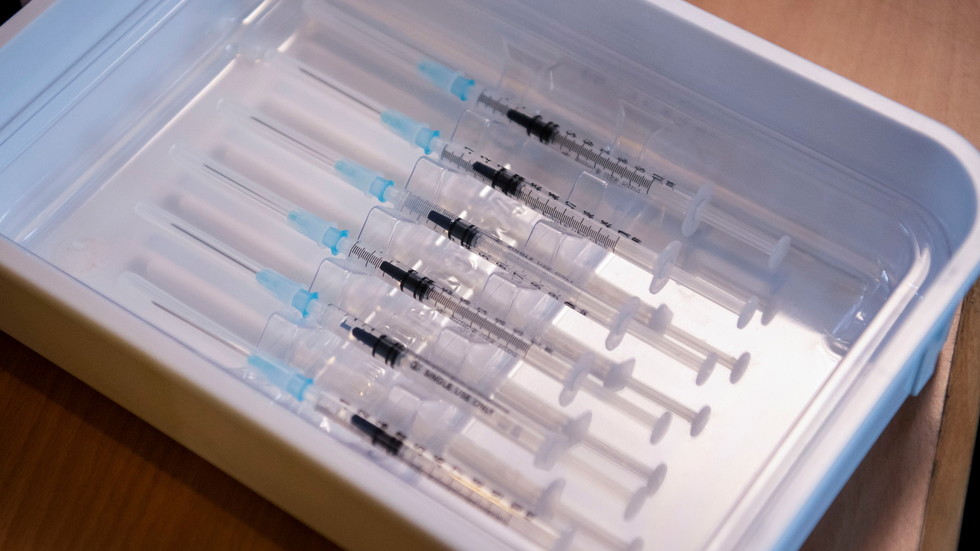 People who oppose Covid-19 vaccine mandates are anti-vaxxers, pure and simple, Northern Territory Chief Minister Michael Gunner said during a heated press conference, noting more positive cases in his state were expected.
Gunner made it more than clear during a press conference in which he was asked if his hardline stance on vaccine mandates might have turned some away from getting the jab that anyone who wasn't 100% for the state's increasingly draconian vaccination mandates was a true "anti-vaxxer." Even if they themselves had been vaccinated, he argued, Australians were either with the virus or with the mandates.
"If you give a green light, give comfort to, support anybody who argues against the vaccine, you are an anti-vaxxer. Your personal vaccination status is utterly irrelevant," Gunner declared.
The term 'anti-vaxxer', previously used to denote a parent who opposed vaccination for their children, has seen its meaning expanded during the Covid-19 pandemic to include anyone who opposes vaccination for themselves – and now, in the eyes of ardent vaccine supporters, anyone who opposes a mandate, whether or not they themselves have taken the shot.
Read more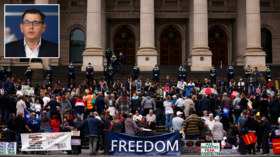 "If you're out there in any way, shape or form campaigning against the mandate, then you are absolutely anti-vax," he continued, insisting the state's vaccination mandate was "absolutely critical" to saving lives. "I will never back away from supporting vaccines, and anyone out there who comes for the mandate, you are anti-vax," Gunner snarled.
A lockdown in the state's town of Katherine was set to be extended until 6pm local time Wednesday night because with 1,300 test results still outstanding, the authorities were "still expecting more positive cases." Two cases had been detected on Monday – a 67-year-old man and a 33-year-old mother said to be a "close contact of a confirmed case." However, her child had repeatedly tested negative. 
Despite the paucity of cases, Gunner insisted it was "highly likely" there were other positive cases in the area, citing "continual positive traces" in the wastewater catchment area of the neighborhood, but allowed the nearby Robinson River area to move out of lockdown, giving residents the freedom to move around so long as they did not leave the neighborhood.
The minister insisted "enforcement, rather than encouragement" was the only way to get vaccination levels to the desired target.
Like this story? Share it with a friend!
Go through, go, Lukashenko tells asylum seekers near EU border | News
Belarusian leader makes first public appearance near the chaotic border since crisis broke out.
With no end in sight for the weeks-long crisis at the European Unions eastern frontier, Belarusian leader Alexander Lukashenko has told hopeful asylum seekers that his country would not stop them from attempting to cross into the bloc.
Addressing a group on Friday, his first public appearance at the border since the start of the crisis, Lukashenko met asylum seekers and refugees at a warehouse turned into a shelter and told them they were free to head west or go home as they chose.
An Iraqi teenager told Lukashenko she could not return home and hoped to continue on to Europe.
We wont only hope, Lukashenko answered. We will work together on your dream.
Lukashenko said no one would be coerced.
If you want to go westwards, we wont detain you, choke you, beat you, he said as hundreds applauded. Its up to you. Go through. Go.
He added, We wont in any circumstances detain you, tie your hands and load you on planes to send you home if you dont want that.
Thousands of refugees and asylum seekers are stuck between Belarus and Poland, in what the EU has said is a crisis Minsk engineered by distributing Belarusian visas in the Middle East, flying them in and pushing them across the border.
Lukashenko said it was the EU that deliberately provoked a humanitarian crisis that needed to be resolved.
On Friday, he told the asylum seekers he would not play politics with their fate.
Hybrid war
Poland and other EU nations have argued the crisis is part of a hybrid war Minsk is waging in retaliation for EU sanctions imposed in response to Lukashenkos crushing of protests against his disputed re-election last year and is designed to destabilise the bloc.
The EU has agreed on new sanctions in response to the border crisis, which diplomats in Brussels said should be approved and adopted in early December.
Latvia, Lithuania and Poland have deployed thousands of border guards, soldiers and police to seal the border and push back people attempting to cross over from Belarus.
On Friday, Lithuania said it could close its border crossings if more attempted to cross from Belarus in trucks.
Belarus has begun to fly some people home.
On Friday, two planes brought hundreds of Iraqis back from Belarus to Erbil, capital of Iraqs Kurdish autonomous region.
Two more flights were expected on November 26 and 27, the TASS news agency reported.
Warsaw has said the repatriation of refugees and asylum seekers marked a change of tactics rather than a genuine attempt at de-escalation and Polish Prime Minister Mateusz Morawiecki, touring European capitals this week to rally support for a tough response, has raised the possibility of further sanctions if the crisis escalated.
Poland and Lithuania have continued to report crossing attempts by people who are increasingly desperate with the onset of winter conditions. Polish authorities also reported unrest at one of the detention centres set up for refugees and asylum seekers who made their way into the country.
The issue has exacerbated strife between Russia, which is Belaruss main backer, and the EU, whose ties have been at post-Cold War lows since Moscows annexation of Crimea from Ukraine in 2014.
Russian President Vladimir Putin, who helped Lukashenko ride out mass street protests after last years election, has also supported Minsk in its most recent standoff with the EU.
Meanwhile, humanitarian fears are growing, with the reported deaths of at least a dozen refugees and asylum seekers in the past few weeks. The real number of casualties is widely understood to be higher.