More than 500 rights groups urge UN to stop Myanmar army offensives | United Nations News
Human rights groups call on the UN Security Council to address escalating attacks by military in the restive Chin state.
More than 500 civil rights groups have called for a United Nations Security Council meeting to stop the escalating violence in Myanmars western Chin state, which has become a forefront of resistance against military rule.
Human Rights Watch (HRW) released a statement on behalf of 521 international and domestic organisations calling on the Security Council to adopt a resolution and act before the offensive expands in the embattled border region.
It must convene an urgent meeting on the escalating attacks in Chin State and the overall deepening political, human rights and humanitarian crisis as a result of the Myanmar military leaders search for power and greed that has caused immense suffering, the statement said.
500+ organizations call on the UN Security Council to urgently convene a meeting on the escalating attacks in Myanmar's Chin State & address the rapidly deteriorating crisis in Myanmar. #WhatsHappeningInMyanmar https://t.co/7SKMJXvuVO pic.twitter.com/TwR7AO18mU

Elaine Pearson (@PearsonElaine) November 5, 2021
Heavy weapons and troops have been moved towards the region, suggesting an imminent army attack to flush out militia groups formed after the military coup in February.
The rights groups also called on the UN to impose a global arms embargo to stop the flow of weapons and dual-use goods to the Myanmar military government, according to the Reuters news agency, which reported the news on Friday.
Myanmar has been paralysed by protests and violence, with the military struggling to govern as it faces armed resistance from militias and ethnic minority rebels allied with a shadow government.
The UN humanitarian agency in a situation report on Wednesday said clashes between security forces and peoples defence forces had intensified in Chin as well as in neighbouring Magway and Sagaing regions.
The Myanmar military last week began shelling the town of Thantlang, in Chin State. Witnesses, aid groups and local media said the shelling set as many as 200 houses and at least two churches on fire. HRW said soldiers deliberately torched houses at random. Save the Children, one of the signatories of the statement, said its office was destroyed.
Approximately 10,000 residents had already fled Thantlang as the military allegedly shot into homes and set off fires by shelling in September.
The organisations maintain such indiscriminate attacks against civilians and humanitarian organisations are violations of international law and constitute war crimes.
Tom Andrews, the UN special rapporteur on the situation of human rights in Myanmar, said these tactics are ominously reminiscent of those employed by the military before its genocidal attacks against the Rohingya in Rakhine state in 2016 and 2017.
We should all be prepared, as the people in this part of Myanmar are prepared, for even more mass atrocity crimes. I desperately hope that I am wrong, he said as he presented his findings to the UN General Assembly last week.
The Security Council has so far refrained from taking any effective actions beyond statements.
The human security risk not only threatens the people of Myanmar but also regional and thus global security and peace, HRW said in its call to action.
The Council must immediately build on previous statements with concrete action by adopting a resolution that consolidates international action to resolve the deepening crisis.
Europe's First Case Of New Covid Variant Detected In Belgium
<!–
–>
Highlights
New variant detected in an unvaccinated person returning from abroad
"As precaution" Europe is stopping flights from southern Africa: Minister
"So, total precaution but don't panic," health minister said
Brussels:
Belgium said Friday it has detected the first announced case in Europe of the new Covid-19 variant, in an unvaccinated person returning from abroad.
"We have a case that is now confirmed of this variant," B.1.1.529, first detected in southern Africa, Belgian Health Minister Frank Vandenbroucke told a media conference.
The infected person tested positive on November 22 and had not had Covid-19 before, he added, without giving further details.
A leading Belgian virologist, Marc Van Ranst, tweeted that the person had returned from Egypt on November 11.
Vandebroucke said: "It must be repeated that this is a suspect variant — we don't know if it is a very dangerous variant."
He noted, however, that "as a precaution" Europe was stopping flights from southern Africa.
"So, total precaution but don't panic," he said, adding that Belgium's Covid-19 risk assessment group was analysing the situation.
(Except for the headline, this story has not been edited by NDTV staff and is published from a syndicated feed.)
Oil crashes as coronavirus strain threatens demand recovery | Oil and Gas News
The emergence of the new strain represents the biggest threat to the recovery in global oil consumption.
Oil prices crashed more than 10% as a new coronavirus strain sparked fears that renewed lockdowns will threaten a global recovery in demand.
West Texas Intermediate crude tumbled below the $70-a-barrel level on Friday for the first time since late September, while the global benchmark price, Brent, slumped to less than $75.
The downward spiral in prices comes three days after a U.S.-led effort by top consuming nations to release stockpiled crude in an attempt to tame surging energy inflation. Next weeks OPEC+ meeting will now take on an even greater significance, as the producer group led by Saudi Arabia and Russia must decide whether to continue ratcheting up supply or pause the increases in response to the latest market volatility. OPEC+ is leaning towardabandoninga plan for a modest production hike scheduled for January when it meets on Dec. 1 to 2, according to delegates.
The identification of the new Covid variant has already prompted the U.S., the European Union and the U.K. to restrict air travel and triggered a selloff across financial markets, even as researchers have yet to determine whether its more transmissible or lethal than previous strains.
The development apparently wrong-footed many in the oil market who had been comforted by low inventory levels and demand that had rebounded to 2019 levels, said Rebecca Babin, senior energy trader at CIBC Private Wealth Management.
It was a lack of downside that had us continuing to think nothing bad could happen, she said. No one was thinking we could get a variant that were not familiar with and it could have meaningful impact.
The price plunge marks a dramatic change in market sentiment. Crude hit multiyear highs in recent months amid an energy crisis in Europe and China that had also sparked rallies in prices for coal and natural gas. Some traders and analysts predicted oil could reach $100 a barrel or more.
High gasoline retail prices prompted U.S. President Joe Biden to seek ways to ease the pressure on consumers, leading to Tuesdaysannouncementthat the U.S. will release 50 million barrels of crude from the Strategic Petroleum Reserve, with China, Japan, India, South Korea and the U.K. also set to tap inventories. Still, oil rose on the day that the move was confirmed, suggesting traders had already priced in the new supply, or that they were underwhelmed by the supply response.
OPEC+ had warned previously it would reconsider a potential output increase if other nations went ahead with a reserve release. UBS Group AG said Friday that OPEC+ could choose to pause its current planned output hike of 400,000 barrels a day, or even cut production.
Prices
West Texas Intermediate for January fell $10.24, or 13.1%, from Wednesdays close to settle at $68.15 a barrel in New York. The decline was the largest since April 2020.
There was no settlement Thursday due to the Thanksgiving holiday and all transactions will be booked Friday
Brent for January settlement tumbled $9.50 to settle at $72.72 a barrel on the ICE Futures Europe exchange
Fridays oil selloff was likely exacerbated by a lack of trading activity during the U.S. holiday period, coming a day after Thanksgiving, and as the New York market closed early.
Its a sign the market got carried away from itself and that we still remain very vulnerable to Covid-19, said John Kilduff, founding partner at Again Capital LLC.
Aside from the headline prices, crude traders also watched several other notable shifts in the market. WTI crude futures closed below its 200-day and 100-day moving averages, signs of technical weakness. The extreme pressure on the U.S. benchmark meant its discount to Brent expanded, reaching the widest since May 2020.
The picture wasnt much brighter in oil-product markets, the part of the oil complex most directly affected by end-user demand.Dieselplunged, particularly in Asia, as the market began to price in a potential renewed hit to economic growth.
This is a huge overreaction in terms of the market, Amrita Sen, chief oil analyst at consultant Energy Aspects Ltd. said in a Bloomberg Television interview. This is the market pricing in the worst possible scenarios.
Other key news:
Chinas ambiguity on whether it will join the U.S.-led coordinated release of oil reserves is aimed at a domestic audience to show Beijing isnt following Washington, according to government officials involved in the discussions.
Even fully vaccinated, you're anti-vax if you oppose mandates, Australian minister declares RT World News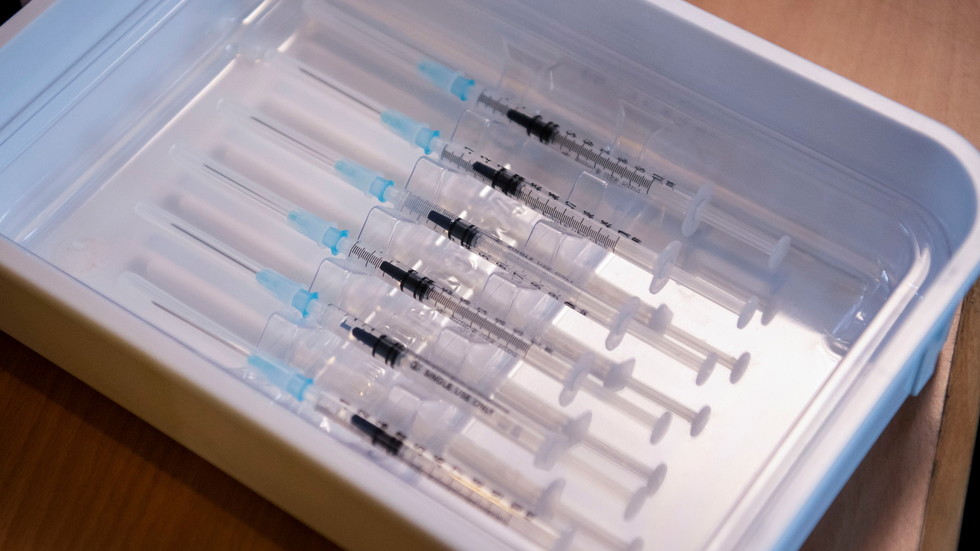 People who oppose Covid-19 vaccine mandates are anti-vaxxers, pure and simple, Northern Territory Chief Minister Michael Gunner said during a heated press conference, noting more positive cases in his state were expected.
Gunner made it more than clear during a press conference in which he was asked if his hardline stance on vaccine mandates might have turned some away from getting the jab that anyone who wasn't 100% for the state's increasingly draconian vaccination mandates was a true "anti-vaxxer." Even if they themselves had been vaccinated, he argued, Australians were either with the virus or with the mandates.
"If you give a green light, give comfort to, support anybody who argues against the vaccine, you are an anti-vaxxer. Your personal vaccination status is utterly irrelevant," Gunner declared.
The term 'anti-vaxxer', previously used to denote a parent who opposed vaccination for their children, has seen its meaning expanded during the Covid-19 pandemic to include anyone who opposes vaccination for themselves – and now, in the eyes of ardent vaccine supporters, anyone who opposes a mandate, whether or not they themselves have taken the shot.
Read more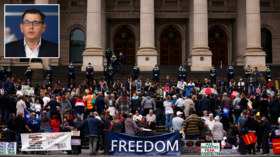 "If you're out there in any way, shape or form campaigning against the mandate, then you are absolutely anti-vax," he continued, insisting the state's vaccination mandate was "absolutely critical" to saving lives. "I will never back away from supporting vaccines, and anyone out there who comes for the mandate, you are anti-vax," Gunner snarled.
A lockdown in the state's town of Katherine was set to be extended until 6pm local time Wednesday night because with 1,300 test results still outstanding, the authorities were "still expecting more positive cases." Two cases had been detected on Monday – a 67-year-old man and a 33-year-old mother said to be a "close contact of a confirmed case." However, her child had repeatedly tested negative. 
Despite the paucity of cases, Gunner insisted it was "highly likely" there were other positive cases in the area, citing "continual positive traces" in the wastewater catchment area of the neighborhood, but allowed the nearby Robinson River area to move out of lockdown, giving residents the freedom to move around so long as they did not leave the neighborhood.
The minister insisted "enforcement, rather than encouragement" was the only way to get vaccination levels to the desired target.
Like this story? Share it with a friend!