Reptiloids at the helm of the UN? Twitter split after CGI dinosaur lectures humans on downsides of extinction RT World News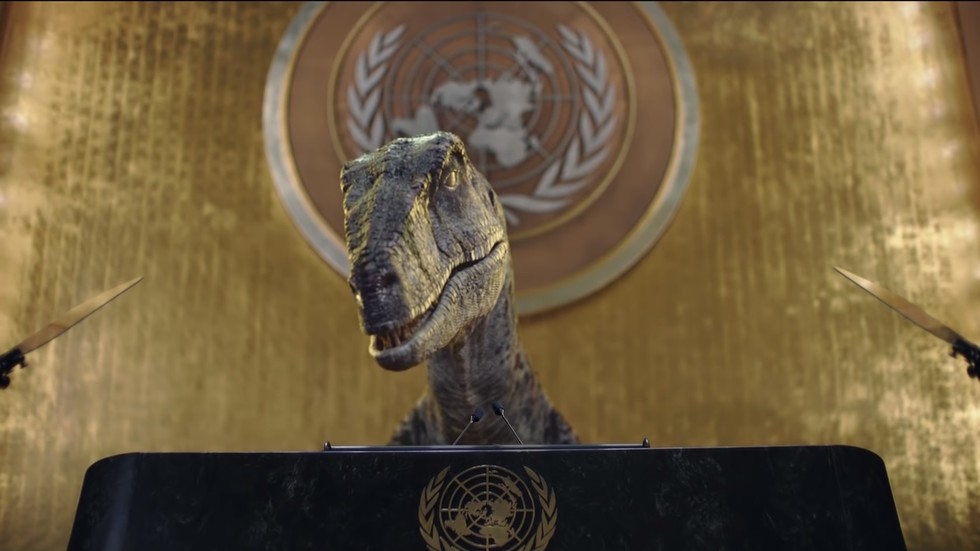 A CGI dinosaur talking with the voice of fan-favorite actor Jack Black took center stage at the UNs General Assembly chamber to tell politicians to stop subsidizing fossil fuels and do more to tackle climate change.
The short clip was released by the UN's Development Programme (UNDP) as the centerpiece of its 'Don't Choose Extinction' public awareness campaign. The polar bear-sized reptilian was shown startling a UN meeting with his impressive appearance and a tough-love lecture on how dying out as a species is a really bad outcome.
"At least we had an asteroid. What's your excuse?" the dino says, lashing out at government subsidies of fossil fuels, which an accompanying UN report estimates at about $423 billion annually.
Imagine if we had spent hundreds of billions per year subsidizing giant meteors. That's what you're doing right now!
The money would be better spent on alleviating poverty and countering climate change, the UN-in-a-CGI-dino-suit argued. "Don't choose extinction. Save your species before it's too late. It's time for you humans to stop making excuses and start making changes," the message concluded, eliciting a standing ovation from the mammal audience.
While many people said the warning sounded quite convincing, especially with the English version delivered in the voice of beloved actor Jack Black, many others took the opportunity to fire off some punchlines. For some, the humorous takeaway from the video was that lizard people may be "real" and either already rule the world or are planning a takeover.
Others found it a good excuse for China-bashing, based on the country's current contribution to greenhouse gas emissions. Or to attack both the UN and China in one package, due to Taiwan's unrecognized status at the UN.
Quite a few found the tongue-in-cheek short film too reductive and silly to land its message properly. One snarky commenter said it reminded them of a scene in the 2006 satirical comedy film 'Idiocracy', which saw Americans in the distant future believing that good US dinosaurs defeated bad Nazi dinosaurs in the 20th century, which led to the creation of the UN (pronounced 'un').
The video's producers definitely weren't aiming for any pretense at scientific accuracy with their 'Frankie the Dino' protagonist. The surprise speaker is supposed to be a "70-million-year-old Utahraptor" who doesn't even have any feathers – which scientists believe the real members of the species likely possessed.
"We wanted to come up with something a little bit different, a little bit engaging, and with a big message that is a message of hope," UNDP's communications chief Anjali Kwatra explained to Associated Press. "There is a crisis, we have to act, but we have the solutions. We know what to do and we can do it."
The complexity of the issue of fossil fuel subsidies was acknowledged by UNDP head Achim Steiner. "Ending financial support for them in a way that is fair and equitable is a critical element of [the advocated] transition," he admitted.


Also on rt.com
European energy crisis caused by impulsive transition from fossil fuels Rosneft boss Sechin



Developing countries are nowhere near their developed counterparts in terms of historic emissions, and didn't benefit from centuries of industrialized economic growth powered by the fossils.
If you like this story, share it with a friend!
Change is possible: Honduras prepares for critical election | Elections News
Tegucigalpa, Honduras Amid widespread fear of fraud and ensuing social unrest, Hondurans are preparing to vote in a tense presidential election that could end 12 years of rule for the conservative National Party, which has governed since a 2009 coup.
The National Partys time in office has been marked by corruption, alleged involvement in drug trafficking, and increased militarisation, spurring mass migration to the United States. The coronavirus pandemic and back-to-back hurricanes in November 2020 sunk the country deeper into a sociopolitical crisis.
President Juan Orlando Hernandez, who could face extradition to the US on drug trafficking charges after he was named as a co-conspirator in a case against his brother, may have the most at stake, although he is not up for re-election.
His partys candidate, current Tegucigalpa Mayor Nasry Tito Asfura, is trailing by 17 percent behind former first lady Xiomara Castro of the left-wing Libre Party, according to an October poll by the Honduran Center of Studies for Democracy (CESPAD).
The elections on Sunday during which voters will also elect congress members, mayors, and members of the Central American Parliament mark a turning point for Honduras as two opposing political visions battle for dominance, said Joaquin Mejia, a researcher with the Honduran Team for Research, Investigation and Communication (ERIC-SJ).
The first represented by Asfura is the continuity of the regime, Mejia told Al Jazeera, while the second would mark a first step towards national dialogue to begin to reconstruct the country.
New election, old faces
Castro is making her third presidential run as candidate for the Libre Party, founded by her husband Manuel Mel Zelaya, who was removed from office in the 2009 coup.
Polling at 38 percent according to the CESPAD poll, she pulled ahead in the race after making an alliance in October with opposition candidate and former TV host Salvador Nasralla. Prior to that pact, polls showed Asfura with a slight lead.
What Honduras needs right now is symbols, said Mejia. The fact that theyve managed to form this alliance has sent a symbolic message to the population in the sense that they feel a change is possible.
Castro has promised to bring back social programmes, decriminalise abortion in three cases, and ban special economic zones. Many voters see her candidacy as a continuation of her husbands presidency, although she also has a respectable political trajectory of her own, leading a massive protest movement.
Things are going to improve with Xiomara because we saw it with the presidency of Mel Zelaya, said 58-year-old subsistence farmer Blanca Rodriguez at a rally November 19 for Castro in rural Intibuca. She cited social programmes that helped rural Hondurans as her reason for voting for Castro.
Others believe she will end government corruption and impunity, and restore democratic institutions that have been debilitated during 12 years of National Party rule. With Xiomara, were going to rescue the rule of law, said 67-year old retiree Isidro Luna, another rally participant.
But Castros record is also tainted. An allegation that Zelaya accepted a bribe from a drug trafficker also surfaced in the US case against Hernandezs brother.
With the people
About 21 percent of voters surveyed by CESPAD in October said they would vote for National Party candidate Asfura, whose campaign has tried to portray him as a reliable leader by playing on his nickname Papi a la Orden Papi at your service.
His ads emphasise that he is different and with the people.
Hes the only one who convinces me because, with the others, everything is just promises, said 59-year-old Julio Figueroa, an unemployed voter from Tegucigalpa, who cited public works projects in the capital as proof that Asfura is qualified. Hes a hardworking person, Figueroa added.
Asfura faces an investigation by the countrys special anti-corruption prosecution unit into alleged embezzlement of $1m in government funds in 2017 and 2018 as Tegucigalpa mayor. Yet this may not influence Honduran voters, many of whom are deciding to vote based on which candidate they hate less, according to Julio Raudales, vice-rector for international relations at the National Autonomous University of Honduras.
More than 60 percent of Hondurans surveyed by CESPAD said they disapproved of Hernandezs presidency and a rejection of the current government is driving some voters towards Castro, explained Raudales. At the same time, some voters reject Castro over concerns her left-wing policies are too communist and will turn the country into Cuba or Venezuela a fear that her opponents have used to attack her.
A third candidate, Yani Rosenthal from the Liberal Party, who previously served three years in US prison for laundering drug money, is trailing behind both Castro and Asfura with just 3 percent.
Its not wanting to vote for Tito [Asfura] that makes someone vote for him, but rather that someone hates Mel Zelaya, said Raudales. For others, theyre going to vote for Xiomara [Castro] so Juan Orlando [Hernandez] doesnt get away with anything.
Fears of fraud
Despite a wide lead for Castro, Honduran voters and analysts fear the election results will be manipulated. About 70 percent of Honduran voters said they believed the elections would be fraudulent to some degree, according to the CESPAD poll.
Everything seems to indicate that she will win, Raudales said. But the National Party has the power and it has the possibility of committing fraud, which would be terrible for the country.
This fear of fraud and distrust in the political system could lead to low voter turnout. Despite compulsory voting in Honduras, only 60 percent of Hondurans said they planned to cast a ballot in the October CESPAD poll.
Twenty-year-old street vendor Evelyn Vasquez said days before the election that she did not plan on voting. I dont trust any of them [the candidates] because they are all thieves, Vasquez said.
Fraud allegations marred the 2017 presidential elections, leading to mass protests. The Organization of American States (OAS) ordered new elections, but Hernandez ultimately was declared the winner. International observers, including the OAS and European Union, will be monitoring the elections again this year.
In a statement on November 23 denouncing irregularities in the electoral process, the National Party said it was committed to transparent and peaceful elections and accused the Libre Party of engaging in a hate campaign to generate fear.
In 2018, the countrys three main parties the National Party, Libre, and the Liberal Party had agreed to a set of electoral reforms meant to increase fairness and transparency in the process. The changes included modifications to the electoral body, a new voting registry to prevent fraud, and measures to ensure independent vote observation tables.
But analysts have said the odds are still stacked in favour of the National Party. Using state resources to campaign, bussing voters from remote, rural areas to the polls, and stacking vote observation tables with loyalists are just some ways the National Party can manipulate the results, said Mejia.
Its a bit naive to think that the same people who carried out the coup, who committed grave human rights abuses and electoral fraud and violated the constitution to stay in power, today have converted into democrats and are going to easily accept losing power with all the implications that it carries, said Mejia.
Meanwhile, voters, such as Rodriguez from Intibuca, say they will be on alert on election day. Theyve committed fraud, she said. But weve woken up, and if they do it again the people are going to rise up.
Europe's First Case Of New Covid Variant Detected In Belgium
<!–
–>
Highlights
New variant detected in an unvaccinated person returning from abroad
"As precaution" Europe is stopping flights from southern Africa: Minister
"So, total precaution but don't panic," health minister said
Brussels:
Belgium said Friday it has detected the first announced case in Europe of the new Covid-19 variant, in an unvaccinated person returning from abroad.
"We have a case that is now confirmed of this variant," B.1.1.529, first detected in southern Africa, Belgian Health Minister Frank Vandenbroucke told a media conference.
The infected person tested positive on November 22 and had not had Covid-19 before, he added, without giving further details.
A leading Belgian virologist, Marc Van Ranst, tweeted that the person had returned from Egypt on November 11.
Vandebroucke said: "It must be repeated that this is a suspect variant — we don't know if it is a very dangerous variant."
He noted, however, that "as a precaution" Europe was stopping flights from southern Africa.
"So, total precaution but don't panic," he said, adding that Belgium's Covid-19 risk assessment group was analysing the situation.
(Except for the headline, this story has not been edited by NDTV staff and is published from a syndicated feed.)
Oil crashes as coronavirus strain threatens demand recovery | Oil and Gas News
The emergence of the new strain represents the biggest threat to the recovery in global oil consumption.
Oil prices crashed more than 10% as a new coronavirus strain sparked fears that renewed lockdowns will threaten a global recovery in demand.
West Texas Intermediate crude tumbled below the $70-a-barrel level on Friday for the first time since late September, while the global benchmark price, Brent, slumped to less than $75.
The downward spiral in prices comes three days after a U.S.-led effort by top consuming nations to release stockpiled crude in an attempt to tame surging energy inflation. Next weeks OPEC+ meeting will now take on an even greater significance, as the producer group led by Saudi Arabia and Russia must decide whether to continue ratcheting up supply or pause the increases in response to the latest market volatility. OPEC+ is leaning towardabandoninga plan for a modest production hike scheduled for January when it meets on Dec. 1 to 2, according to delegates.
The identification of the new Covid variant has already prompted the U.S., the European Union and the U.K. to restrict air travel and triggered a selloff across financial markets, even as researchers have yet to determine whether its more transmissible or lethal than previous strains.
The development apparently wrong-footed many in the oil market who had been comforted by low inventory levels and demand that had rebounded to 2019 levels, said Rebecca Babin, senior energy trader at CIBC Private Wealth Management.
It was a lack of downside that had us continuing to think nothing bad could happen, she said. No one was thinking we could get a variant that were not familiar with and it could have meaningful impact.
The price plunge marks a dramatic change in market sentiment. Crude hit multiyear highs in recent months amid an energy crisis in Europe and China that had also sparked rallies in prices for coal and natural gas. Some traders and analysts predicted oil could reach $100 a barrel or more.
High gasoline retail prices prompted U.S. President Joe Biden to seek ways to ease the pressure on consumers, leading to Tuesdaysannouncementthat the U.S. will release 50 million barrels of crude from the Strategic Petroleum Reserve, with China, Japan, India, South Korea and the U.K. also set to tap inventories. Still, oil rose on the day that the move was confirmed, suggesting traders had already priced in the new supply, or that they were underwhelmed by the supply response.
OPEC+ had warned previously it would reconsider a potential output increase if other nations went ahead with a reserve release. UBS Group AG said Friday that OPEC+ could choose to pause its current planned output hike of 400,000 barrels a day, or even cut production.
Prices
West Texas Intermediate for January fell $10.24, or 13.1%, from Wednesdays close to settle at $68.15 a barrel in New York. The decline was the largest since April 2020.
There was no settlement Thursday due to the Thanksgiving holiday and all transactions will be booked Friday
Brent for January settlement tumbled $9.50 to settle at $72.72 a barrel on the ICE Futures Europe exchange
Fridays oil selloff was likely exacerbated by a lack of trading activity during the U.S. holiday period, coming a day after Thanksgiving, and as the New York market closed early.
Its a sign the market got carried away from itself and that we still remain very vulnerable to Covid-19, said John Kilduff, founding partner at Again Capital LLC.
Aside from the headline prices, crude traders also watched several other notable shifts in the market. WTI crude futures closed below its 200-day and 100-day moving averages, signs of technical weakness. The extreme pressure on the U.S. benchmark meant its discount to Brent expanded, reaching the widest since May 2020.
The picture wasnt much brighter in oil-product markets, the part of the oil complex most directly affected by end-user demand.Dieselplunged, particularly in Asia, as the market began to price in a potential renewed hit to economic growth.
This is a huge overreaction in terms of the market, Amrita Sen, chief oil analyst at consultant Energy Aspects Ltd. said in a Bloomberg Television interview. This is the market pricing in the worst possible scenarios.
Other key news:
Chinas ambiguity on whether it will join the U.S.-led coordinated release of oil reserves is aimed at a domestic audience to show Beijing isnt following Washington, according to government officials involved in the discussions.