The 20 best collaboration software tools in 2021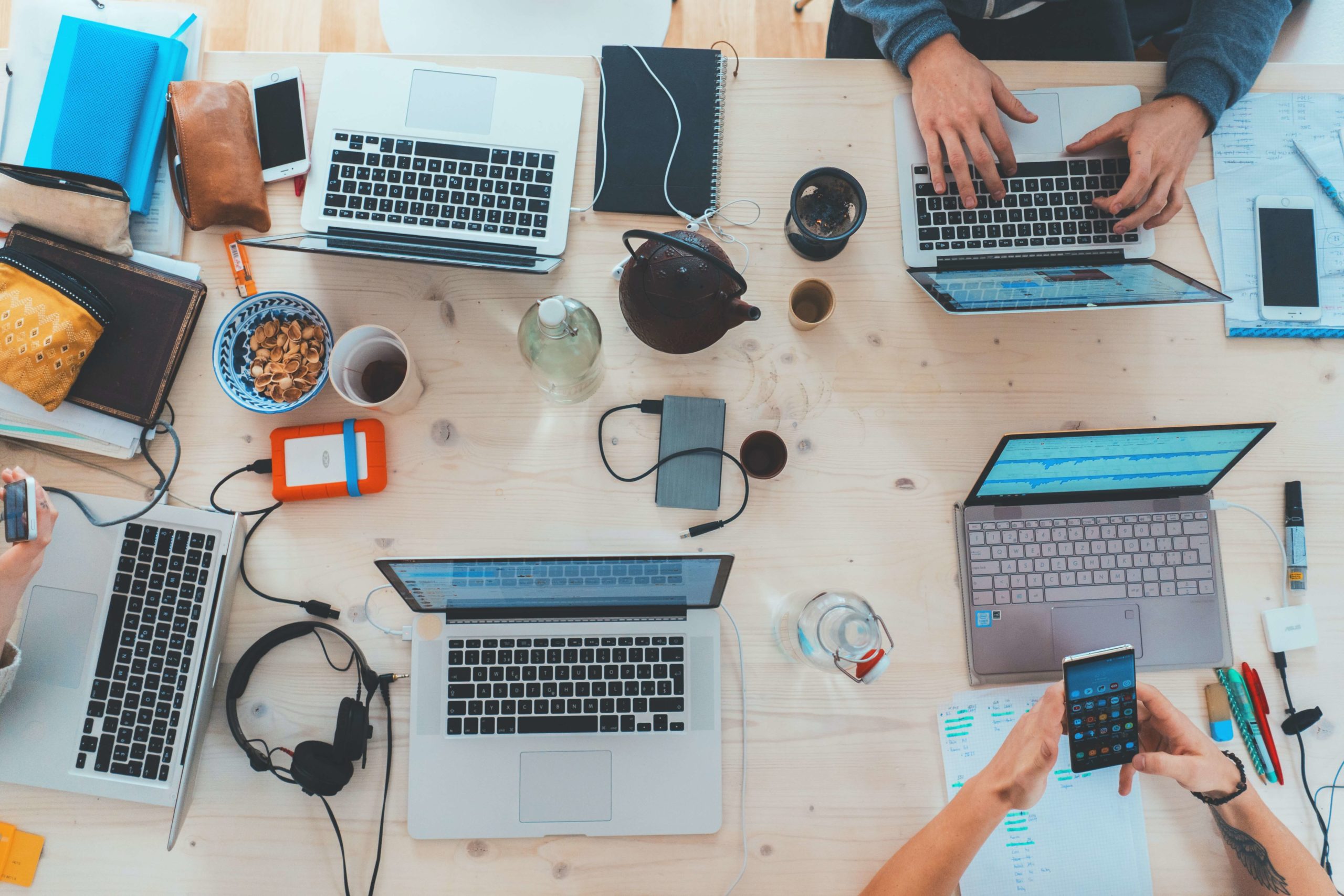 Although the rise in remote working practices has exponentially driven the uptick in the adoption of collaboration tools, theres also another reason why teams are looking for online collaboration software: to improve productivity. 
A team collaboration tool is a communication tool with project management features rolled into one. Designed to provide a central platform for sharing knowledge, data, and documents, team collaboration software helps businesses maximize efficiency and teamwork. 
Heres the short answer: Yes!
Even small teams in single locations can benefit from online team collaboration tools since they provide a single place where files are located, can help reduce email back and forth, and help colleagues communicate quickly. 
No matter the size or distribution of your company, in todays modern landscape of virtual, remote, and hybrid working models, collaboration tools can help your company and coworkers: 
Stay connected while working remotely
Strengthen team relationships
Improve project management 
Consolidate project files in a single place
Boost overall productivity 
Whether your goal in adopting collaboration tools is to streamline communication, consolidate project management coordination, or provide your teams with a handy tool to stay connected, team project collaboration software is a must for any modern business. 
Choosing the right collaboration tool ultimately depends on your particular business needs. However, keep an eye out for the following features and attributes when considering the best team collaboration software.
Ease of use
Successful adoption of new software involves a learning curve, and it takes time for everyone to get comfortable using it. A user-friendly interface with intuitive navigation is key to ensuring everyone can get on board with a new collaboration tool. Feature-rich solutions are great, but they can be difficult to handle, so evaluate each platforms feature set closely. 
File sharing
File sharing features are a must-have for any team. Look for collaboration tools that allow users to securely share files, upload them effortlessly, and if you need be sure to check out the level of file storage each app supports.  
Communication features
Robust collaboration platforms dont start and end with an instant messaging function. Look for a collaboration tool that supports multiple communication features, including private messaging, group chat, discussion boards, video conferencing, and status reporting.
Integration with other business software
Smart companies will look for business collaboration software that integrates with the business tools theyre already using. This will enable easy data sharing between apps, which means less switching between tools and less tool fatigue. 
Now you know what collaboration software is, why your teams need it, and what key capabilities to look out for, its time to search for the best tool for your business. The good news is that theres a collaboration tool suitable for every type of business across all industries. 
Below, we go through 20 of the best online collaboration tools and their features to help you make the right choice. 
Slack is a popular collaboration tool thats available on desktop, has its own mobile app available on iOS and Android, and offers a generous free version of the platform. 
Key features of Slack include: 
Direct messaging and file sharing for individuals as well as for different group channels (these can be organized by team, department, project, or whatever you want!) 
Users can communicate through instant messaging, voice calls, and video calls
Clients and guests from other organizations can use a workspace upon invitation 
Integration with over 2,400 different business apps including Zoom, Asana, Salesforce, Trello, and Twitter
Slack also integrates with TravelPerk, the leading travel management platform, meaning that when a business trip needs approval, an automatic Slack message with the approval request is sent to the travelers approver, streamlining the trip approval process. 
monday.com is a collaboration and task management software thats suitable for teams of all sizes and functions. 
Key features of monday.com include:
Customizable boards for managing workflows, projects, and tasks
Multiple view types including timeline, Kanban boards, Gantt charts, map view, and calendar view
@mention any teammate or team to keep them in the loop
Workload and availability tracking 
Asana is a collaboration and work management platform that helps track and organize work and connect employees.  
Key features of Asana include:
Ready-to-use templates for project planning
Users can choose from multiple task/project views (board view, list view, timeline view, and calendar view)
Workflows for managing tasks, dependencies, due dates, and milestones
User communication via task comments, project conversations, status updates
Trello is a project management tool that organizes projects into boards and comes with generous team collaboration features.
Key features of Trello include:
Users can organize projects with boards or lists, that can also be organized by different teams tasks
Custom workflows to suit every team
To-do lists and checklists for each stage of each project 
@mention any teammate to update them of project process
Wrike is a project management software solution for organizations of all sizes, with a free version available. 
Key features of Wrike include:
Automation Engine reduces the amount of manual repetitive work by employing rule-based automation of various actions
Customizable workspaces with shared calendars, files, and folders 
Multiple communication methods, including Wrike Inbox, dashboards, @mentions, group chat, private messaging, alerts, and notifications
Track individual and overall task progress
Zoom is a video conferencing platform with strong collaboration features and team communication tools. 
Key features of Zoom include:
Video conferencing, audio calls, and screen sharing
Zoom chat for direct and group messaging 
Integrate schedules into Zoom meetings
Flexible pricing that allows customers to customize their subscription package 
Podio is a low-code collaboration app that collates project data into one tool.
Key features of Podio include:
File sharing with clients and team members
Aligns all content, conversations, and processes into one collaboration point
Instant messaging and video chat
Automated progress reporting
Miro is an interactive collaborative whiteboard platform for brainstorming that allows users to work with sticky notes to plan and manage workflows.
Key features of Miro include:
Pre-built templates and customizable project/workflow templates
Screen sharing and presentation sharing
Multiple communication methods including video, chat, and @mentions 
Agile-friendly with stand-ups, sprint planning, and retrospectives
Flock is an online collaboration platform that offers a shared space for all cross-functional work.
Key features of Flock include:
Video and voice calling 
Real-time file sharing 
Advanced search capabilities to find documents, messages, and files 
Invite guests from other organizations to collaborate
Teamwork is a project management platform that is designed especially for client work and collaboration. 
Key features of Teamwork include:
Break down projects into tasks and layers of subtasks
Manage project permissions from site level down to specific tasks
Board view and Gantt charts for easy task visualization
Track meetings, holidays, and major deadlines in one place
ClickUp is an all-in-one project management and collaboration solution suitable for small businesses and enterprises.
Key features of ClickUp include:
Communicate directly and in context with other team members
Create schedules, organize calendars, and manage workload capacity in one place 
Multiple workflow views including list view for to-dos, board view for workflows, box view for dashboards, and Gantt view for project schedules
Alerts users when teammates are simultaneously viewing a task or adding new comments
Nutcache is a collaborative project management software that allows teams to plan, track, and manage projects.
Key features of Nutcache include:
Color-coded schedules, drag-and-drop editing, and task organization queues
Gantt charts to plan, track, and organize tasks
Organize board lists by task, member, or workday
Expense and time-tracking tools to help projects stay within budget
Evernote is a note-taking app that enables project organization and task management. 
Key features of Evernote include:
Collaboration tool, Spaces, is a central source of information and a messaging and communication space
Virtual bulletin board where users can make announcements 
Custom template creation
Create notes from emails and share existing notes from within Gmail and Outlook
Microsoft Teams is a collaboration and video-conferencing platform that helps teams stay in touch as well as perform work-related tasks. 
Key features of Microsoft Teams include:
Instant messaging and audio and video chat
File sharing and co-authoring of documents
Live meeting captions and transcriptions
Integration with Trello, InVision, and SurveyMonkey
Creately is a SaaS visual collaboration tool for brainstorming, planning, executing, and communicating around projects. 
Key features of Creately include:
Collaborate in formats like diagrams, visuals, text, symbols, and more
Multiple collaborators can work within a Creately document at the same time
In-app video conferencing 
Comment feature includes discussion threads, to-do lists, and screenshot annotation screenshots.
Hibox is a team collaboration solution that integrates task management and videoconferencing within the same platform. 
Key features of Hibox include:
Internal chat, task management, and live video conferencing
AI feature identifies regular actions from chat patterns to efficiently schedule tasks 
Create streams for specific teams, projects, or departments
Share, customize, and view files from the past and present
Nifty is a project management app that connects remote teams and enables collaboration. 
Key features of Nifty include:
Track task assignments, activities, and time logs across all projects
Discussion boards to collaborate with team members
Create visual roadmaps of project milestones
File sharing using a drag and drop interface
Google Drive is a suite of collaboration tools including Google Docs, Google Sheets, and Google Slides. 
Key features of Google Drive include:
Create, share, and edit documents with anyone, even those outside your organization
Create organized shared drives for files and folders
Collaborate real-time by adding comments to any file type, tagging team members, and assigning tasks or action items
Rich version history for files, and recorded changes are color-coded by person
Figma is a collaborative platform for designers which allows multiple teams to collaborate.
Key features of Figma include:
Project pages where users can pin files for easy access and add notes for context
Teams can edit designs together in real-time
@mention any teammate and leave comments within the design
Integrations with Trello, Flinto, Slack, Dropbox, and Jira
Notion is a project and workflow management solution that helps businesses streamline operations. 
Key features of Notion include:
Drag-and-drop interface to organize, rearrange, and customize ideas
Maintain a knowledge base for task instructions, coding guidelines, and HR workflows
All-in-one workspace combines notes, documents, project management, and wikis
Set priority levels on tasks so individuals can organize their work.
Maria Raga on Why Community Is Central to Depops Success
To subscribe to the BoF Podcast, please follow this link.
In June 2021, online marketplace Etsy announced plans to acquire Depop for $1.6 billion. The move was yet another sign of growing interest in the burgeoning fashion resale market, which according to BoF Insights, is now worth $130 billion globally.
Chief executive Maria Raga describes Depop as combining elements from Instagram and eBay. The platform is skewed towards lower-priced product exchange between younger traders, almost all of them 26 and under. Raga believes that its Depops community aspect facilitating not just online transactions, but also person to person interactions that attracts these all-important Gen-Z shoppers.
Ragas insights are featured in the fifth episode of The BoF Show, now streaming on Bloomberg Quicktake.
Here, we share the full interview, exclusively on The BoF Podcast.
Watch the fifth episode of The BoF Show, Resale: Inside the $130 Billion Secondhand Fashion Market
Explore the new report from BoF Insights, The Future of Fashion Resale here.
Virtual Fashion Is Big News. Can It Be Big Business?
On Monday, Londons fashion set will descend on the grand Royal Albert Hall for this years Fashion Awards, a linchpin of the citys fashion calendar returning as an in-person event for the first time since the pandemic.
This year, those who didnt get an invite can attend in the virtual world.
Its the latest sign of fashions rapid embrace of cyberspace. At the ceremony, Gucci creative director Alessandro Michele is set to receive the Trailblazer Award, in part for Guccis forays in the digital realm.
Last week, Nike launched Nikeland, its vision for a virtual world on gaming platform Roblox, where users can speed around a track, play tag on trampolines and of course pick up some digital Nike products. Its following labels like Gucci and Vans in creating brand-centric immersive experiences on the platform.
The global games market exploded over the pandemic and is expected to be worth $180.3 billion this year, according to Newzoo, a market research firm focused on the gaming industry. While supply chain disruptions and a global chip shortage are constraining near-term growth, Newzoo sees the value of the gaming industry topping $200 billion by 2023.
I actually think the most rapid growth period in the video game industry is in front of us, not behind us, said David Reitman, the global gaming lead at Accenture. (The strategy and technology services firm estimates the gaming industry is already worth $200 billion and growing.)
Brands are laying the groundwork to tap into the trend now. In the past few months alone, in addition to the tie-ups with Roblox, Balenciaga collaborated with online mega-game Fortnite and Burberry partnered with NFT-based game Blankos Block Party. There are more tie-ups to come.
But can gaming move from being the next big thing to being big business?
Some financial analysts are certainly projecting a windfall. Morgan Stanley estimates luxury companies could generate nearly $24 billion in combined sales from revenue-sharing deals with social games like Roblox and non-fungible tokens, or NFTs (unique virtual assets logged on a digital ledger known as a blockchain). In their most optimistic case, Morgan Stanleys analysts believe such sales could surpass $50 billion.
They also noted these initiatives could help brands expand their total addressable markets and provide an uplift to their earnings.
Some brands have already scored windfalls from experimenting in the virtual realm. Dolce & Gabbana cashed in this October when it auctioned a collection of NFTs that brought in $6.1 million. Brands such as Rebecca Minkoff have had more modest sales.
Even so, NFT values are volatile, and there remain a number of constraints on how much brands can leverage virtual goods in games.
Right now, if you purchase a virtual jacket for your avatar in a game, you generally cant take it with you into another game, making it more like renting the jacket than truly owning it.
In theory, NFTs could solve part of the problem by making it possible to track ownership of a digital item across platforms. But the concept still faces some practical obstacles. For one, games have their own visual styles, so there needs to be a technical solution that allows an item to render correctly wherever it appears. Game makers would also need to cooperate to enable this level of interoperability.
If the role digital items will play in boosting big brands sales numbers remains uncertain, the potential for gaming to become a key piece of their marketing strategies is much closer on the horizon. Reitman predicts in the near future any brand looking to target younger shoppers with a product launch will make sure gaming is factored into the campaign.
Longer term, BoF Insights digital fashion report found digital assets will be integral to future-proofing businesses as consumers spend a growing amount of time online.
But one question still to be answered is how fashion brands will measure the return on their investments in gaming.
Our channel checks suggest that a number of these gaming and fashion collaborations to date have been done on a break-even basis i.e., the fashion brand pays to cover the costs of design and integration in the game, the Morgan Stanley analysts wrote. There is a mutual halo effect benefit to both parties but revenue generation has so far been a secondary consideration to simply proof-of-concept.
Stay tuned for BoFs latest case study, How to Seize Fashions Gaming Opportunity, which launches on Monday on www.businessoffashion.com.
THE NEWS IN BRIEF
FASHION, BUSINESS AND THE ECONOMY
Walmart, Gap and Nordstrom earnings reflect supply chain woes. Heading into the holiday season, chains from Gap Inc. to Nordstrom say they cant capitalise on heightened demand as supply chain disruptions translate into empty shelves and disappointed customers. Meanwhile, big-box retailers like Walmart and Target have secured inventory, but are under pressure from higher costs.
American Eagle Outfitters sales impress. The clothing, lifestyle and accessories retailer said its inventory levels jumped ahead of the holiday season as it spent more on air freight to overcome supply chain disruptions, after posting better-than-expected quarterly results.
Heading into Christmas, Mulberry sales rise to pre-pandemic levels. The luxury British brand said demand for its luxury products is back at pre-pandemic levels, with sales in the UK and Asia powering a 34 percent surge in first-half revenue.
Roland Mouret files for administration, shuts down Carlos Place store. The London-based couturier is the latest pandemic casualty in the high-end occasion-wear market. The labels collapse follows that of Ralph and Russo, which announced it was entering administration in May.
US online spending surge indicates early holiday season consumer activity. Online consumer spending jumped 20 percent to a total of $72.2 billion this month through Tuesday in a sign that holiday shopping has started early, according to the Adobe Digital Economy Index.
ABG delays IPO plans following private equity investment. CVC Capital Partners and HPS Investment Partners agreed to purchase significant equity stakes in Authentic Brands Group Inc., giving the company an enterprise value of $12.7 billion. ABG owns brands including Forever 21 and Brooks Brothers and announced a deal to acquire Reebok from Adidas for $2.4 billion in August.
Lanvin Group formerly Fosun Fashion Group unveils its new brand identity. The group joins a cohort of other luxury players, including Burberry and Balmain, that have embraced sans-serif capital letters in recent years. A spokesperson told BoF there was no immediate plan for a change in the Lanvin brand logo.
Marks & Spencer takes a 25 percent stake in womenswear brand Nobodys Child. The British retailers investment comes as it seeks to accelerate a revival in its clothing arm.
THE BUSINESS OF BEAUTY
Korean beauty retailer Olive Young is eyeing a $1 Billion IPO. The health and beauty chain, also known as CJ Olive Young, is looking to raise $1 billion in a local public offering that sources told Retail News Asia will take place early 2022. The news comes amid a surge in Korean IPOs, which have raised $21.4 billion this year.
Recently listed Revolution Beauty eyes US expansion. The UK makeup company is ramping up its US expansion with plans to launch in 2,800 retail stores in the next three months.
PEOPLE
Alessandro Michele, Ib Kamara to be honoured at 2021 Fashion Awards. Guccis creative director will receive the Trailblazer Award at the event on Monday for his work positioning Gucci at the intersection of culture, art, music and film, the British Fashion Council said. Meanwhile, Dazed editor in chief Kamara will receive the Isabella Blow Award for Fashion Creator for his incredible contribution to the fashion industry, BFC chief executive Caroline Rush said.
Este Lauder reshuffles China, North America leads. The beauty giant said its president of Asia-Pacific Mark Loomis will become president of North America effective February 2022. Meanwhile, Joy Fan, who previously served as the head of its China affiliate, has been named president and chief executive of the companys China business. Fan will report to group international president Peter Jueptner and oversee the companys long-term growth strategy in the crucial Chinese market.
Neiman Marcus Group boosts executive ranks. The American luxury retailer promoted senior vice president Natalie Lockhart to an expanded role leading the department store groups newly created growth execution office. It also expanded the responsibilities of its vice president of people and ESG, Chris Demuth. Elsewhere, it hired corporate communication consultant Tiffin Jernstedt to serve as its chief communications officer. The company said the new appointments would boost its efforts to reflect a more modern growth mindset.
MEDIA AND TECHNOLOGY
SoftBank invests in influencer marketing platform LTK. The 10-year-old company founded by fashion blogger-turned-entrepreneur Amber Venz Box and her now-husband Baxter Box said it raised $300 million from SoftBank. The investment valued LTK at $2 billion.
Chinese authorities announce new rules for celebrity promotions. The national cyberspace regulator has outlined new guidelines for celebrity-produced and celebrity-related content online, according to state media reports.
Chinas tax authorities punish two top livestreamers. Xueli Cherie and Lin Shanshan Sunny will be punished for tax evasion and fined 66 million yuan ($10.34 million) and 28 million yuan ($4.38 million) respectively.
Compiled by Daniel-Yaw Miller.
Fearing Empty Shelves, Black Friday Early Birds Head to US Stores
With many major US retailers opening their doors to shoppers at 5 a.m. on Friday, early risers ventured out, hoping to find gifts to tuck under the Christmas tree before products sell out.
The day after the US Thanksgiving holiday, known as Black Friday, officially kicks off the year-end shopping season. In most past years, retailers have hosted doorbuster discounts of 50 percent-or-more-off everything from clothing and toys to TVs, prompting shoppers to line up for blocks outside stores and crowd into malls to scramble for deals.
But as online shopping has taken off, Black Friday crowds have dwindled, particularly in 2020 when people were still unvaccinated and worried about Covid-19.
Regardless, early queues were expected, with some shoppers worried that an ongoing supply chain logjam might prevent retailers from stocking sought-after items such as Hoverboard scooters, Nerf toys, Oculus Quest 2 headsets, AirPods Pro earbuds, and MacBook Air laptops.
Walmart, Best Buy and Target this year did not require shoppers who have been vaccinated to wear masks, but some indoor malls kept existing mask requirements.
A report by consumer research platform Attest showed about two-thirds of 1,000 people surveyed on Nov. 13 were comfortable shopping in-person despite the ongoing pandemic.
People are looking to get back to normal, said Rod Sides, Deloittes US retail leader. The early online birds, and the birds that went into the store, may get the worm.
A Deloitte survey showed people had already spent 80 percent-85 percent of their budgets before Black Friday. Still, the consultancy said two-fifths of respondents would line up at stores on Black Friday between midnight and 6 a.m.
Nivia Lopez, 26, from Bolingbrook, Illinois, has already scratched perfumes and makeup from Ulta Beauty off her Christmas list, but is venturing out to Victorias Secret, Best Buy and Nordstrom on Black Friday. Lopez, who typically shopped on Thanksgiving before stores increasingly closed on the holiday, took advantage of early online deals.
As stores welcome holiday shoppers, some may be reevaluating their security measures after high-end stores in some US cities were targeted by brazen smash-and-grab robberies, where masked thieves stuff bags full of merchandise.
Online vs Standing in Line
US consumers enter the holiday season flush with spending power thanks to a still-hefty pile of savings from multiple rounds of government pandemic relief, and now double-digit year-over-year wage increases as businesses compete for scarce workers.
Data out Wednesday showed consumer spending grew by a greater-than-expected 1.3 percent in October. Spending on big-ticket items like automobiles lifted the headline figure, but the data also showed broad-based spending increases on services like travel.
Online and brick-and-mortar retailing come together just outside the store. This Black Friday, retailers including Target, Macys and Walmart, allocated more floor space and workers to online pick-up stations and curbside parking.
Walmart, the worlds biggest retailer, hired 150,000 workers for the holidays, many for these jobs. Target added more than 18,000 drive-up parking spaces, more than doubling spots versus last year.
Curbside pickup increased 92 percent in November compared to 2019, according to Adobe Digital Economy Index, which showed 23 percent of online orders on Nov 23 were for curbside pickup.
Hayden Willis and Grace Lafortune, visiting Chicago for Thanksgiving, lined up early on Black Friday before flying home to Seattle, despite doing some holiday shopping earlier in the week.
I feel like there are more options online. I know things are going to be readily available and I can just shop and ship to my family, said Lafortune, 22, who eyed gifts for Willis mother and sisters at Bloomingdales, Anthropologie and Nordstrom Rack.
As of Nov 23, out-of-stocks messages had already risen 8 percent versus the prior week, according to Adobe. Through most of November, out-of-stocks were up 261 percent versus 2019.
There are already reported shortages of toys in a number of big sellers in North America and I think youll see similar shortages in electronics, said Andy Halliwell, senior director of retail at consultancy Publicis Sapient.
Electronics in short supply due to a global chip shortage had the highest out-of-stock levels, followed by personal care, home and garden, housekeeping and baby and toddler products, according to Adobe.
Instead of seeing eight piled-high boxes of TVs, you might see three or four stacks of TVs. You might see fewer bicycles on the racks, NPD analyst Marshal Cohen said.
Higher supply-chain costs have forced many retailers to raise prices and cut back on discounts.
Apparel prices, for instance, were up 8.6 percent through the first 10 months of the year on a non-seasonally adjusted basis, according to the Bureau of Labor Statistics. That compares with a 0 percent increase in the first 10 months of 2020 and 4.7 percent in the first 10 months of 2019. Meanwhile, in the 12 months through October, the Consumer Price Index accelerated 6.2 percent.
By Richa Naidu and Arriana McLymore; Editor: Nick Zieminski