Wuhan scientists wanted to release coronaviruses into bats
Chinese scientists wanted to genetically engineer coronaviruses that were more infectious to humans and then conduct experiments on live bats about 18 months before the first COVID-19 cases emerged — but a US Department of Defence agency rejected the funding proposal, leaked documents reveal.
Scientists at the Wuhan Institute of Virology were planning to genetically enhance airborne coronaviruses and release aerosols containing novel chimeric spike proteins among cave bats in Yunnan, China, according to the 2018 proposal submitted to the Defense Advanced Research Projects Agency (DARPA).  
They also planned to alter coronaviruses to infect humans more easily by introducing human-specific cleavage sites to bat coronaviruses.
The purpose of the research was to assess the risk of coronaviruses, work on ways to prevent outbreaks and even vaccinate bats against the virus, according to the proposal.
The proposal was spearheaded by New York City-based EcoHealth Alliance — the nonprofit headed by British scientist Peter Daszak that has previously funneled federal funds to the Wuhan lab for bat coronavirus research.
But the $14 million grant ended up being rejected by DARPA over fears it could result in gain-of-function research, which could make a virus more transmissible and pathogenic.
It is clear that the proposed project led by Peter Daszak could have put local communities at risk, DARPA said in rejecting the proposal.
Details of the leaked proposal were released Tuesday by Drastic Research, a group of international scientists investigating the origins of the pandemic.
Drastic said it was provided the papers by a whistleblower, and a former member of the Trump administration confirmed the proposals authenticity to the Telegraph.
The group questioned whether the research — particularly altering the virus to make it more infectious to humans — still went ahead given the theory that COVID-19 spread from the Wuhan lab.
Given that we find in this proposal a discussion of the planned introduction of human-specific cleavage sites, a review by the wider scientific community of the plausibility of artificial insertion is warranted, Drastic said.
It comes one week after a group of GOP lawmakers called for House Speaker Nancy Pelosi to subpoena Dr. Anthony Fauci on the origins of COVID-19.
In a letter sent to Pelosi on Sept. 14, they said they have unsuccessfully attempted to seek information from multiple officials about the National Institute of Allergy and Infectious Diseases funding that they believe may have been used for gain-of-function research. Fauci is NIAID's director.
The group argued that the information was critical for providing oversight and gaining information to prevent future pandemics, noting that the intelligence communitys report on the deadly virus origin was inconclusive.
Fauci was earlier accused by critics of lying after separate documents appeared to contradict his claims that the National Institutes of Health did not fund gain-of-function research at the same Wuhan lab. NIAID is part of the NIH.
The documents, obtained by the Intercept, detailed other grants given to EcoHealth Alliance.
Fauci has repeatedly insisted that NIH funding of the Wuhan lab does not constitute gain-of-function research.
The grant proposal included in the documents was for a project titled Understanding the Risk of Bat Coronavirus Emergence, which involved screening thousands of bat samples, as well as people who worked with live animals, for novel coronaviruses, the outlet said.
The $3.1 million grant was awarded for a five-year period between 2014 and 2019. After the funding was renewed in 2019, it was suspended by the Trump administration in April 2020.
The grant directed $599,000 to the Wuhan Institute of Virology for bat coronavirus research.
Utah reports more than 1,300 new coronavirus cases, 5 deaths
ICU numbers have declined, but are still close to capacity.
Editors note: The Salt Lake Tribune is providing free access to critical stories about the coronavirus. Sign up for our Top Stories newsletter, sent to your inbox every morning. To support journalism like this, please donate or become a subscriber.
Five more Utahns died of COVID-19 in the past day, according to the Utah Department of Health, bringing Utahs death toll to 3,095 since the pandemic began.
Two people who died were between the ages of 25-44, and one was 45-64, the Health Department reported.
The Health Department on Tuesday also reported 1,343 new coronavirus cases in the past day. The rolling seven-day average for positive tests stands at 1,283 per day.
The number of Utahns in intensive care units has fallen slightly in recent days, but ICUs remain near capacity. According to the Health Department, 86.6% of all ICU beds and 90.2% of ICU beds in larger medical centers are occupied. Of all ICU patients, 44.8% are being treated for COVID-19.
An additional 2,089 Utahns were fully vaccinated against the coronavirus in the past day, bringing the total to 1,729,035. 52.8% of Utahs total population.
Vaccine doses administered in the past day/total doses administered 8,358 / 3,626,510.
Utahns fully vaccinated 1,729,035.
Cases reported in past day 1,343.
Cases among school age children Kids in grades K-12 accounted for 284 of the new cases announced Tuesday 21% of the tally. There were 137 cases reported in children aged 5-10; 64 cases in children 11-13; and 83 cases in children 14-18.
Tests reported in past day 6,931 people were tested for the first time. A total of 14,607 people were tested.
Deaths reported in past day Five.
There were three deaths in Salt Lake County a man and a woman between the ages of 25 and 44, and a man 45-64.
A Davis County man 85 or older and a Washington County woman 65-84 also died.
Hospitalizations reported in the past day 523. Thats six more than reported on Monday. Of those currently hospitalized, 202 are in intensive care five than reported Monday.
Percentage of positive tests Under the states original method, the rate is 19.4% over the past day. Thats higher than the seven-day average of 15.2%.
The states new method counts all test results, including repeated tests of the same individual. Tuesdays rate was 9.2%, lower than the seven-day average of 10%.
[Read more: Utah is changing how it measures the rate of positive COVID-19 tests. Heres what that means.]
Risk ratios In the past four weeks, unvaccinated Utahns were 14.7 times more likely to die of COVID-19 than vaccinated people, according to a Health Department analysis. The unvaccinated also were 10.7 times more likely to be hospitalized and 5.8 times more likely to test positive for the coronavirus.
Totals to date 533,526 cases; 3,095 deaths; 23,321 hospitalizations; 3,608,571 people tested.
Coronavirus cases in Arizona, mapped by county: Oct. 19 | Local news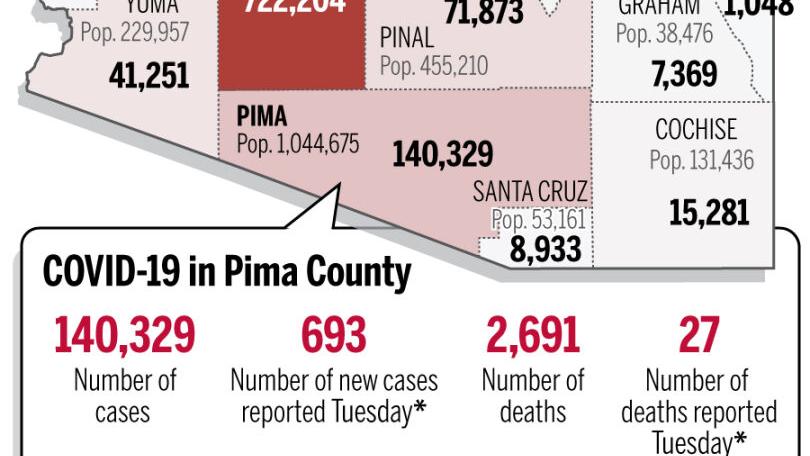 Emily Wolfgang, manager at Little Anthony's Diner, talks with a customer during the first day of Little Anthony's Diner Carhop at Little Anthony's Diner, 7010 E. Broadway Blvd., in Tucson, Ariz., on April 28, 2020. Little Anthony's Diner, in response to the Coronavirus Disease (COVID-19), started an old fashioned 1950's carhop. "It's been a long time since we had a carhop," said Tony Terry, president and owner of Little Anthony's Diner and The Gaslight Theater. "It fits our life right not." Little Anthony's Diner Carhop runs from 11am to 8pm Monday through Sunday. Customers can park in designated parking spots and order and pay for their food from the safety of their car, said Terry. Employees, dressed in 1950's attire with masks and gloves, will come out to check on customers and deliver drinks and food on trays, which resemble trays used in the 1950's that can attach to car windows. There is a Carhop menu, which include burgers, salads and shakes, but customers can order other items off the menu. DJ Phil, Little Anthony's Diner DJ, will play music that can be heard though speakers outside. "We may keep it after the virus," added Terry.
Coronavirus Disease (COVID-19): Weekly Epidemiological Update (19 October 2021) – World
Global overview
Data as of 17 October 2021
With just over 2.7 million new cases and over 46 000 new deaths reported during the week of 11 to 17 October 2021, the global number of new cases and deaths remained similar to that of the previous week (Figure 1). Apart from the European Region, which reported a 7% increase in the number of new weekly cases when as compared to the previous week, all the other regions reported declines in new weekly cases (Table 1). The largest decrease in new weekly cases was reported from the African Region (18%), followed by the Western Pacific Region (16%). The cumulative number of confirmed cases reported globally is now over 240 million and the cumulative number of deaths is just under 4.9 million.
The African Region also reported the largest decline in weekly deaths (25%) followed by the South-East Asia and Eastern Mediterranean Regions with 19% and 8% declines, respectively. All other regions reported new deaths in numbers similar to those of the previous week.
The regions reporting the highest weekly case incidence rates per 100 000 population were the European Region
(145.6 new cases per 100 000 population) and the Region of the Americas (79.9 new cases per 100 000
population); the same two regions reported the highest weekly incidence in deaths, of 1.9 and 1.8 per 100 000
population, respectively.
The highest numbers of new cases were reported from the United States of America (582 707 new cases; 11%
decrease), the United Kingdom (283 756 new cases; 14% increase), the Russian Federation (217 322 new cases;
15% increase), Turkey (213 981 new cases; similar to the number reported in the previous week) and India (114
244 new cases; 18% decrease).
Globally, three additional countries, territories or areas (hereafter countries) reported cases with VOCs in the
past week. As of 19 October, cases of Alpha variant have been reported from 196 countries (one new country
added), Beta variant from 145 countries (no new country added), Gamma variant from 99 countries, and Delta
variant from 193 countries (two new countries added) across all six WHO regions.